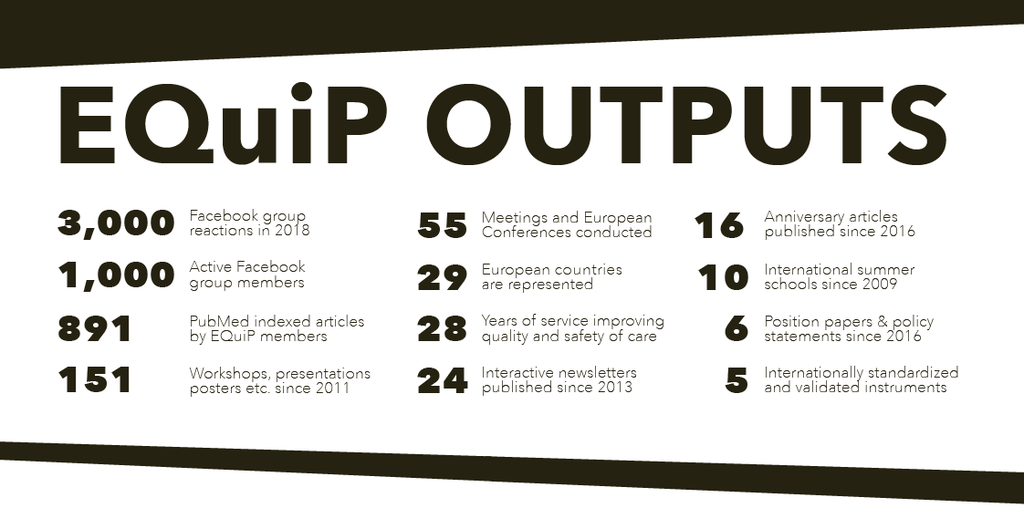 The World Organization of Family Doctors (WONCA), founded in 1972, is a global not-for-profit professional organization with 130 Member Organisations representing 600,000 family doctors in 150 countries and territories around the world.
The European Regional Branch - WONCA Europe - represents 47 member organizations and +120,000 family doctors in Europe. WONCA Europe's mission is to improve the quality of life of people through fostering high standards of care in general practice/family medicine.
EQuiP is WONCA Europe's network for quality improvement and patient safety. Please find a poster about EQuiP enclosed to learn more about its endeavors through 28 years of service.
The next EQuiP European Conference will be held from 29-30 March in Thessaloniki, Greece.
The complete list of seven distinguished keynote speakers include:
C. Sakellarides: Health Systems and Quality of Care
U. Weigeldt: The usage of Digital Devices to Support Patient Safety in Primary Care
E. Panagopoulou: Burnout in Primary Care Professionals
A.Rochfort: Health Professionals as role Models for Peers and Patients
R. Altisent: To get sick is human. When the doctor is the patient. A Spanish National Survey about Doctor's Health - Ill Behaviors
Z.Klemenc-Ketis: Using Patient Education to get Healthier Patient
A. Howe: Patient Safety in Relation to Healthy Practices and Healthy Professionals
Please find abstracts available to this day of keynotes and workshops in the enclosed ePDF.
Read much more, bring a colleague along and register today: https://www.equip2019.eu/